What We Carry
Our Brands from Suncoast Trailer Sales Inc. in Indiana & Florida
The fine associates of Suncoast Trailer Sales Inc., along with others, makes it possible for us to sell the following products:
Kropf & Lakeside Park Models. The Kropf line of Recreational RV Park Model Trailers offers you 400 Square feet of living in both loft and non-loft units. The high end Island Serise encompases all items of upgrade living in a wonderful package. The Lakeside is an excellent quality unit that has been around for many years and gives you the options to hit the price range you want, by only picking the options you desire. Kropf is the oldest manufactureer of Park Models and is located in the same loacation, in Goshen Indiana, since 1946. Starting out as a high end Mobile Home Manufacturer, before switching totally to RV Park Models in the Early 1980's. Suncoast Trailer Sales, Inc. is proud to be KROPF's Oldest existing Dealership, representing this fine product since the 1980's.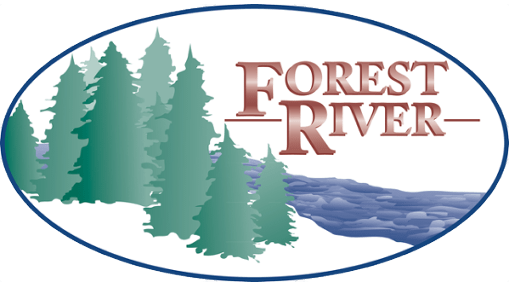 Quailridge & Summit park models by Forest River. We are proud to handle the fine Forest River recreational Tiny House style RV Park Model Trailer. The top of the line Quailridge park model, gives you the versatility of many floor plans, both loft and non loft models. While the Summit park model is an economical priced Park Model with many floor plans in loft & non loft models. For a reasonably priced high quality Park Model, you cannot go wrong with these fine Forest River Models. From their facilities in Elkhart, Indiana, they can produce a Tiny Home Style RV Park Model trailer, you will be proud to call home.
Chariot Eagle by Cavco, manufactures both RV and HUD standard Park ModelTrailers. Chariot Eagle can design you a Recreational Tiny Home style RV Park Model Trailer of your Dreams by pick one of their unique designed standard floor plans. The countless years of experience in working with discriminating customers, shows in every product they build. With the buying power of Cavco, the endless features , colors, interiors and exteriors, you are sure to find the Park Model Trailer of your Dreams. From their factories in Ocala, Florida, They can provide some unique feature for the Sunshine state.
Fairmont Homes by Cavco, is built in the Amish rich area of Nappannee, Indiana. The high quality of craftsmanship that this area is known for, carries into each Recreational Tiny House Style RV Park Model they build. Single, double or non Loft models are available in the Country Manor line with countless available options and decors from modern to rustic, that will satisfy your discriminating taste. The Harmony & Cavco 150 Line of loft and non loft units will satisfy the more budget minded buyer, without sacrificing quality. With the buying power of Cavco and the versatility of floor plans, décor and options, you will be able to find a price range and style that you will enjoy, for a long time.
HL Enterprises provides us with the versatile and reasonably priced Hyline and Bridgeview recreational Tiny House style RV Park Trailer. These units with their wonderful and diversified floor plans, that can give you 400 square feet of living space, with up to 4 slide-outs. Plus these units can be moved easily from one campground to another. These units can be semi customized to fit your needs. HL Enterprise has been building quality Park Trailer for over 20 years, at their plants in Elkhart, Indiana.
Canterbury Park Models: For more than 30 years, Canterbury has been building high-quality recreational Tiny House style Park Model Trailers that blend the simple life with the good life. And now we're taking our experience to the next level, offering folks the chance to outfit their RVs where the possibilities are as boundless as the great outdoors itself. Loft and non loft units are available. These units are crafted in their plant, at Goshen, Indiana.
Woodland Park Models: What sets us apart from others on the market? It's our uncompromising commitment to delivering a quality product. That's not just talk, Woodland Park follows rigid building standards (ANSI 119.5 standards and Canada standard Z-241). But we don't stop there! Inside each Woodland Park park model home, you'll find residential-quality furnishings, not the cheap stuff, and our designers have come up with many different interior decors from traditional to rustic, so your Woodland Park home can be a reflection of your own personal style. Woodland Park offers the finest in park model living with our quality lines of park model homes designed exclusively for destination camping. Whether you're looking for a weekend retreat at your favorite camping spot or a seasonal vacation home, Woodland Park builds a variety of Recreational Park Models customized to meet your needs.
Skyline Homes is now an industry leader in the new and exciting world of Park Models. Built in Leola, Pennsylvania, Skyline Homes is truly an innovater of the best designed and highest quality Park Model homes in the industry. Skyline Homes stands apart in a crowded industry by leveraging their experience in fabricating quality built homes for over 65 years. Skyline Homes has developed and implemented a Commitment to Excellence Program, furthermore emphasizing their commitment to excellence, high-end craftsmanship, green construction techniques, and their Energy Star partnership. By utilizing skilled craftsmen, state of the art building techniques, superior brands, quality materials, and high functioning home designs, they created a paradigm change for the Park Model Home industry.